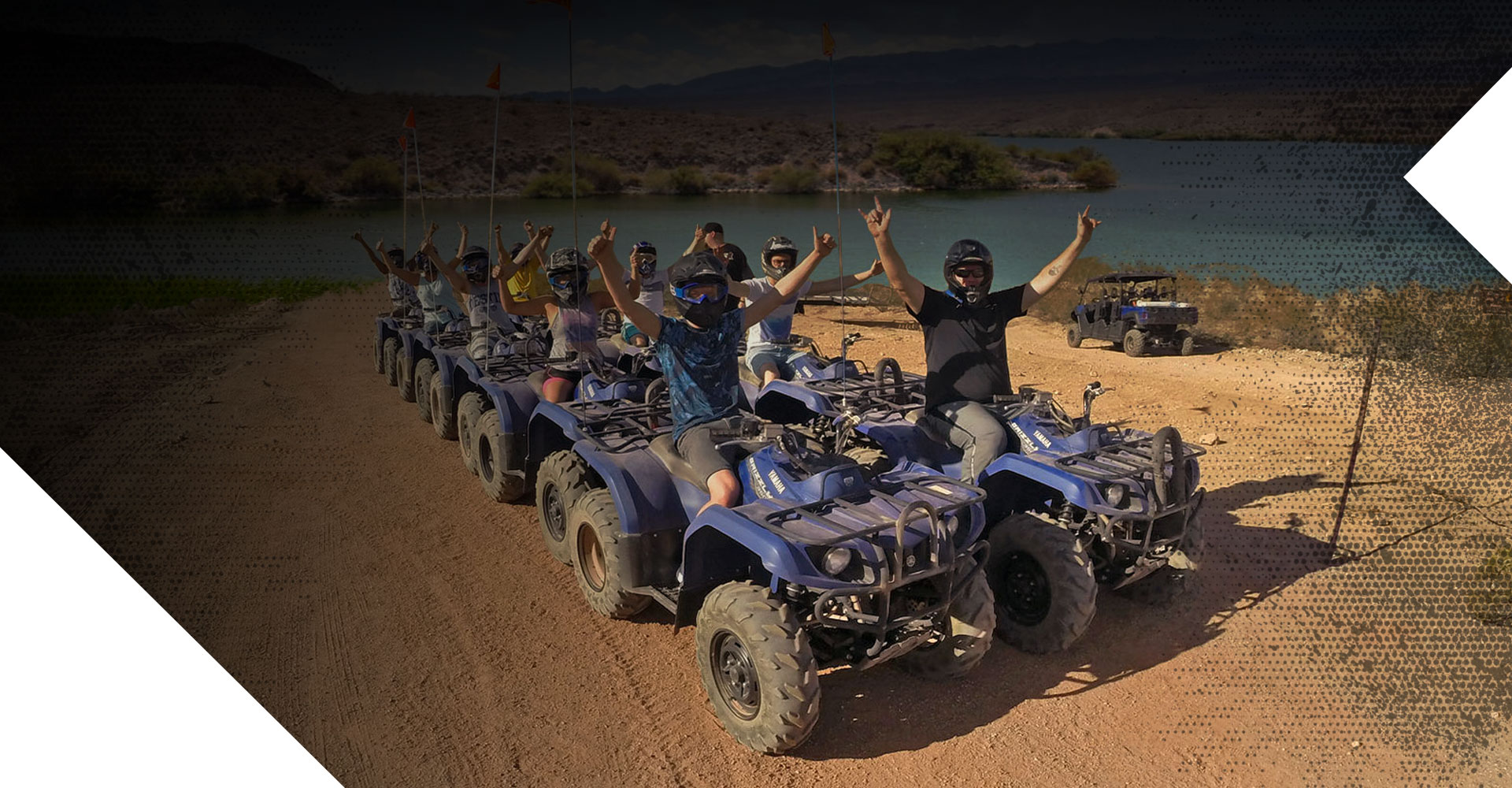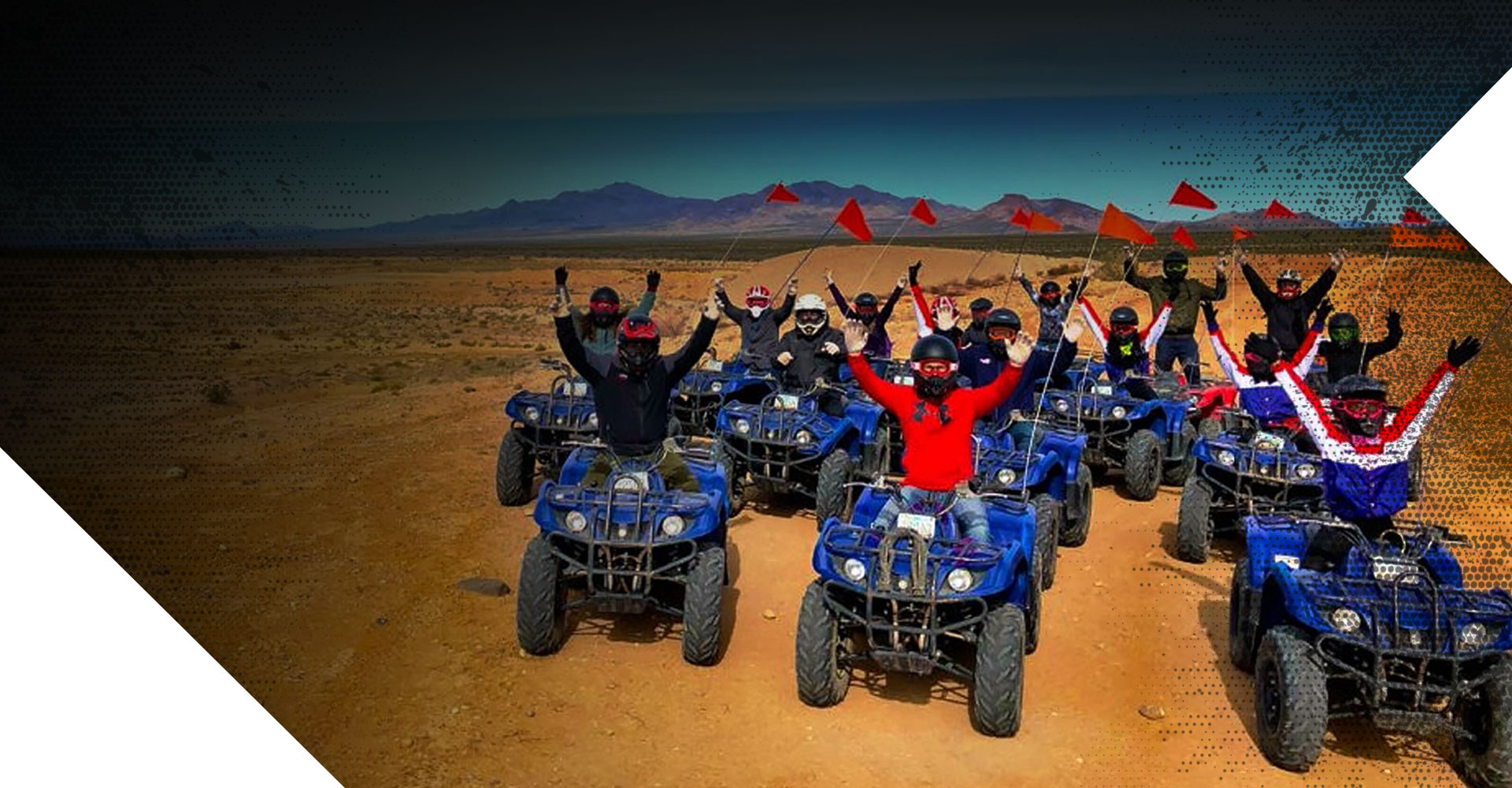 Slide 2
LAS VEGAS
ATV DUNE TOURS
Hop on an ATV and tour through the dunes that overlook the Las Vegas Valley
and Strip with Las Vegas ATVs Dune Tours!
Slide 1
LAKE MEAD
& COLORADO RIVER
Drive an ATV through the off-road and scenic routes of Lake Mead National Park,
and stop by the Colorado River for some awe-inspiring views!
Slide 3
MOJAVE DESERT
ADVENTURE TOUR
Ride through the sandy Mojave Desert terrain and enjoy the Las Vegas
mountain views with a Las Vegas ATV Tour!
THE BEST LAS VEGAS ATV SAND DUNE TOURS
With Las Vegas ATV Dune Tours, you will be immersed in an off-road ATV adventure. Hop on a powerful ATV, and ride through the scenic desert on your trip to Las Vegas! Experience some of Nevada's most exciting terrains at the Nellis Sand Dunes! Tackle the off-road and scenic routes of Lake Mead National Park while making stops at the Colorado River or zip through the sandy terrain of the Mojave Desert!
Spots fill up fast, so book your Las Vegas ATV Sand Dune Tour today!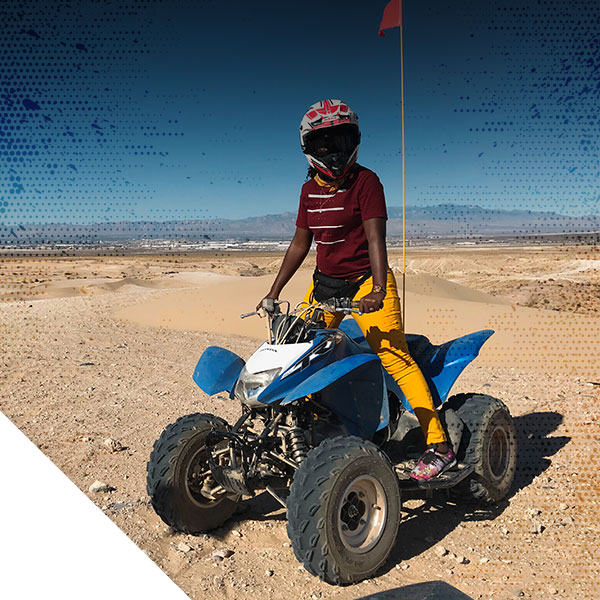 Nellis Dune Tour
Prepare yourself to get a little sandy on the Ultimate Las Vegas ATV Dune Tour! Hit the sand just minutes off the strip for 60 minutes of riding time filled with adrenaline and excitement! This 2 hour tour will be sure to fill your vacation time with memories that will last a lifetime!
Tours Starting At Only $100 + Tax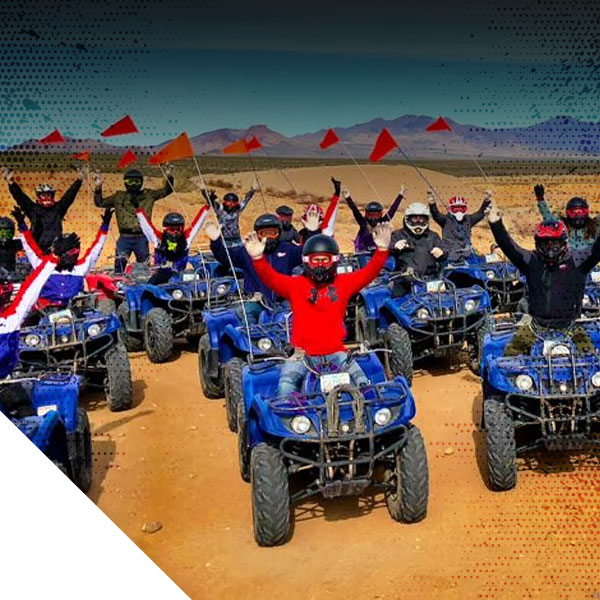 Mojave Desert Adventure ATV Tour
Ride through the Mojave Desert on an epic 1.5 hour ATV tour! (Includes orientation and photo op) Follow a natural forming wash and view the mountains that surround you! Experience the natural side of Las Vegas and immerse yourself in the desert we call home. Get the blood flowing on this 4 hour adventure!
Tours Starting At Only $100 + Tax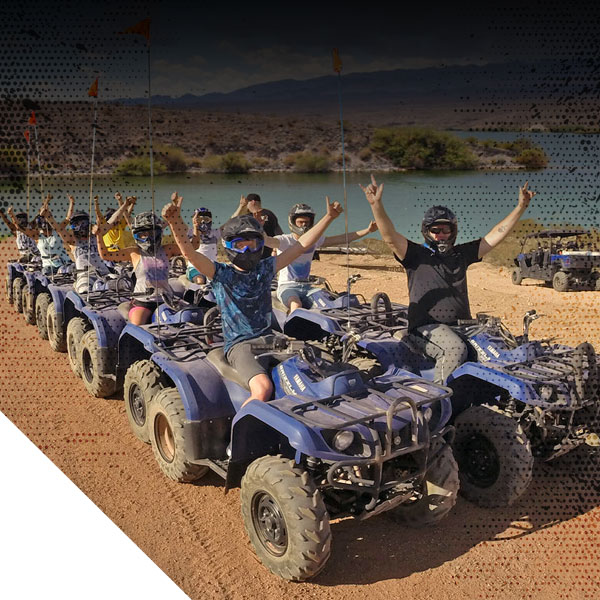 Colorado River, Lake Mead National Park ATV Tour
The most scenic ATV Tour available in Las Vegas! Ride 3 hours through the picturesque trails of Lake Mead National Park to the Colorado River. Stop at the Colorado River at the halfway point for a photo opportunity and bask in the beauty of the natural plant and wildlife that surrounds you! This 6 hour adventure will be sure to heighten your senses!
Tours Starting At Only $230 + Tax
see what our happy customers are saying!

Kick up some sand with us!
FAQ - Please Note
6:00 AM Tour – Tour start times range between 6am-10am.
11:00 AM Tour – Tour start times range between 10am-2pm.
Pick Up Times are determined by the location of your hotel and how many hotels we are picking up from that day.
We will call you the day before your tour to confirm your exact pick up time and location.
All drivers must be at least 18 years old.
The minimum age to participate in this adventure is 6 years old.
Children 6 years old and under cannot participate in this adventure.
All children under the age of 18 must be accompanied by a parent or legal guardian.
All drivers must present a photo ID in order to drive vehicle.
All packages are priced per person.
Due to Safety Concerns pregnant women are not allowed to participate in this adventure.
Photo Identification and the Credit Card used to make the reservation is required for verification purposes.
This adventure is not recommended for individuals who have a hard time walking or have serious health or medical conditions.
If you are are staying at a hotel off the main strip there is a $100 transportation fee if you would like to be picked up from your hotel. We pick up from almost all Strip hotels located on Las Vegas Boulevard and select Off-Strip hotels. We do not provide pick up from Air B&B's or Off-Strip Timeshare properties. If you are staying at a location that we do not provide transportation from you can meet at our corporate office for complementary round trip transportation to and from our facility. Please call our reservation line at 702-333-0999 to confirm if your hotel is an approved pick up location.

Refund policy – All sales are final. Only store credit will be given based on the severity of the situation, and documentation supplied. Call (702) 333-0999 to rebook. Customers testing positive for Covid-19 will be issued a store credit good for 2 years.