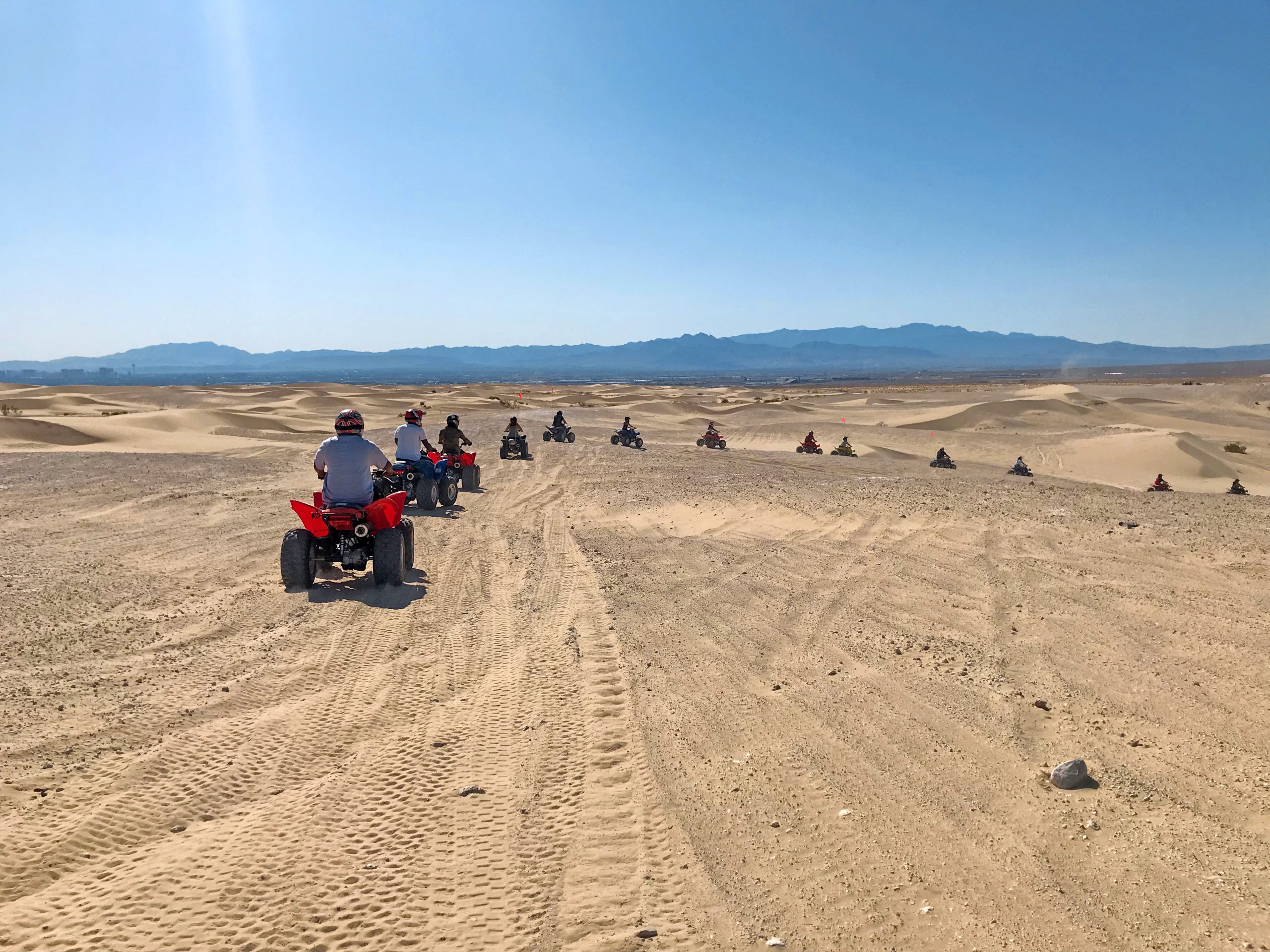 6 Reasons To Choose Las Vegas ATVs Nellis Dunes Tour Vs. Our Competitors
Kick up some sand with the best ATV tour in Las Vegas! The Las Vegas ATV Nellis Dunes Tour is guaranteed to be an adrenaline-pumping experience that you and your group will never forget. From the desert terrain that the Las Vegas Valley is known for to the rolling Nellis Dunes just minutes away from the Las Vegas Strip, our ATV tours are the number one destination for guided ATV tours in the Vegas desert!
Best Prices on Las Vegas ATV Tours
Las Vegas ATVs has the best prices on guided ATV tours in all of Las Vegas! With our ATV tours, you get more bang for your buck, and our prices simply cannot be beaten by our competitors.
Mountainous Trails & Sand Dunes
Our highly-experienced tour guides take you through some of the best ATV trails that include mountainous trails and rolling dunes. You and your group will be able to have an adventure of your life as you zip through different desert terrains, and experience a variety of scenery (and possibly even wildlife)!
Professional ATV Tour Guides
Our tour guides are the best in Las Vegas, and they eat, sleep, and breathe our Las Vegas ATVs Tours! All of our guides are highly knowledgeable of the Nellis Dunes and all of our tours, and they will always ensure that you are comfortable on the ATV no matter what your level of experience is.
Variety of ATV Tours in Las Vegas Available
While the Las Vegas ATVs Nellis Dunes tour is a customer favorite because of its exhilarating terrain and proximity to the Las Vegas Strip, we also offer a variety of different tours that you wouldn't find with any of our competitors. You and your group can ride through the Mojave Desert to experience the natural side of Las Vegas which includes being surrounded by mountains. Or if you're looking for even more scenery, book our Hoover Dam, Colorado River, and Lake Mead National Park ATV Tour to see some of Las Vegas's most iconic sites!
Exhilarating & Reliable ATVs
 Our equipment is some of the best on the market, and with our top-notch & regular maintenance, they are always working like a dream! All of our ATVs have more than enough power to handle the desert terrain and sand dunes, ensuring that you have adrenaline-inducing ate tour. When you're on the Las Vegas ATVs Nellis Dunes Tour, you will never have to worry about having a faulty ATV!
All Safety Gear & Shuttle Service is Provided
With Las Vegas ATVs, you will be provided with all of the safety gear you may need so you don't have to worry! Not only that but if you're an inexperienced rider our knowledgable tour guides will give you an ATV riding lesson to ensure you're comfortable. If you're staying at a hotel on the Las Vegas Strip, no need to worry about getting to your tour location – we've got a complimentary hotel pickup and drop-off! If you're staying in an Air BnB or elsewhere that our shuttle does not service, you are always welcome to meet our shuttle at our corporate office that is minutes from the Las Vegas Strip. 
So what are you waiting for? Book your Las Vegas ATVs Nellis Dunes Tour and kick up some sand today!